The Ultimate Trailer Buying Guide
19 Sep 2016, 5:21 PM
The Ultimate Trailer Buying Guide
If you're thinking of buying a trailer, we have the ultimate guide to help you make your decision. We have four types of standard trailer and they all come with many extras. To make your trailer custom built please see our Optional Extras and Colours sections. From each standard trailer type we are able to offer custom sizes. The table at the end provides dimensions and capacities of our entire trailer range. We can also build your standard or custom built trailer to a maximum overall height and width to accommodate your garage/storage.

4 Trailers to Choose From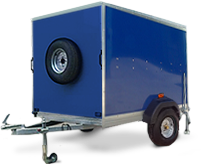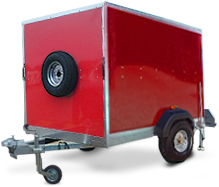 which starts at £1,320. This box trailer provides fantastic value for money and is our best seller by a long way. It provides good capacity at a great price to make it an excellent all-rounder.
which starts at £1,800. This is larger than the Eco and has a greater capacity, making it a popular option for those who need something a little bit bigger.
starting at £2,000. This takes all the benefits of the GP and puts them in a twin axle version for extra stability.
which starts at £2,700. This is our top-of-the-line trailer, and it is ideal for carrying larger and heavier items. Our strongest trailer will give you complete peace of mind that your items are safe on the road.

Choose Your Optional Extras
With all the trailers we provide, you can also add on a range of optional extras that you can see
here
. So now you can make your trailer even more suitable for your specific requirements. Choose from: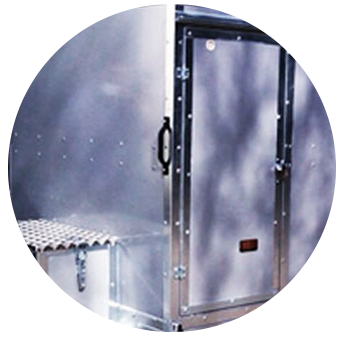 Shaped fronts with access doors, which are a very useful addition to any trailer that also gives you extra loading space.
A side door added to your trailer to provide easier access.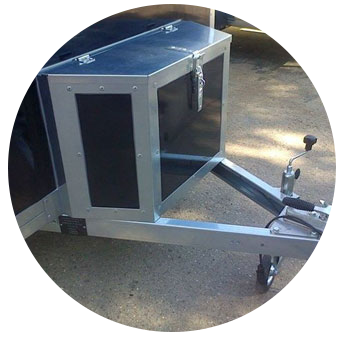 A ramped tailgate, which is ideal for transporting motorbikes or other heavy items that are hard to lift into the trailer. These have a maximum weight of 450kgs and are light and easy to use.
Front storage box for small fuel cans and extra tools.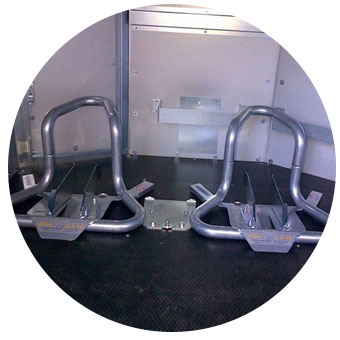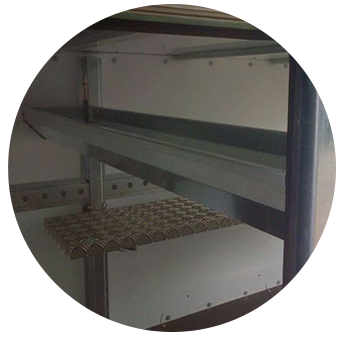 Roof bars – to attach your canoes or cycle racks. Carries a maximum of 50kgs.
Go kart shelving systems – Take 2 karts to the track and why not select our tyre racks to take your spares. Easily fits to the kart shelving.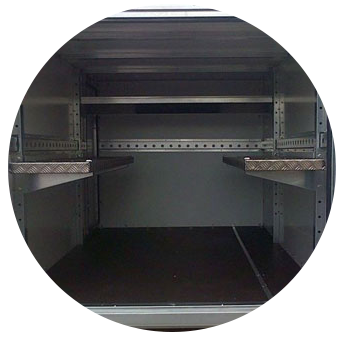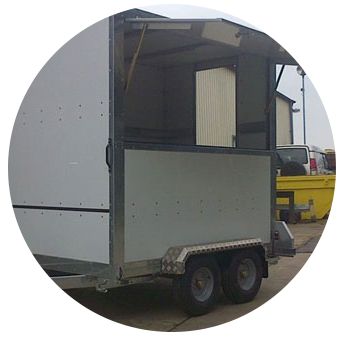 Shelving and racking - Our shelving system is removable and adjustable.
Exhibition flaps for point of sale trailers and light catering trailers.

Choose from a Range of Colours
Not only can you have your trailer custom built with these optional extras, but you can also choose from a
wide range of colours
. Our trailers come in black and white as standard, but you can also get a different colour including:

You can get your trailer made in one colour, or mix them up. You can even advertise your business or group on your trailer.

Ordering Your Trailer
We make ordering your trailer really easy. Simply choose the trailer you want, the extras and the colour, and then get in touch to make your order. You can do this over the phone (01945 881120) or by sending an email to trailers147@gmail.com
One of our friendly staff will discuss all of your requirements including the build design, and we can then finalise the details.

We ask for a 50% deposit, with the balance payable upon collection or completion. You will also be given the details of the trailer to check, and if you need to make an amendment, please let us know immediately.
Please see our Terms and Conditions before placing your order..

It takes about 4 to 5 weeks to complete the trailer depending on our work schedule . We will give you an expected start date, and the trailer will be completed by the end of that week.
Find your local dealer from our stockist page and order direct from them. Our helpful and knowledgable stockists have a range of our trailers available from stock or coming soon. We have stockists covering most of the UK.
You can choose to collect your trailer from us, or we can deliver it directly to you. We deliver to most of the UK, and we can sometimes share the cost with other customers in your area.
But you can always collect from us, and you're welcome to come along and we'll have a cup of tea waiting. Why not make a weekend of it in Norfolk?
We are able to supply and fix your number plate to your trailer.. So when you pick up your trailer, you'll be ready to take it on the road immediately. Please allow 5 working days and the cost is just £15 inc vat. All we need is your vehicle registration document number. We are registered with the DVLA to provide number plates. All our trailers require a standard square rear number plate.
Our trailers are perfect for every kind of load. Whatever size you need, whichever features you require, we'll be happy to help you get your ideal trailer. So get in touch with any questions you have, and we're always happy to help!
So, put your worries behind you and enjoy the ride! "Behind You All The Way" we go "The Extra Mile".